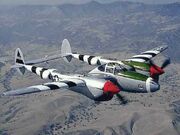 The Lockheed P-38 Lightning was an American single seat heavy fighter. Noted for its layout of twin booms which contained the engines on either side of a central nacelle which contained the cockpit and armament. It was named "forked tail devil" by the Luftwaffe and "two planes, one pilot" by the Japanese.
The P-38 had its first flight on January 27, 1939, was introduced to service in 1941 and retired from service in 1965.
Ad blocker interference detected!
Wikia is a free-to-use site that makes money from advertising. We have a modified experience for viewers using ad blockers

Wikia is not accessible if you've made further modifications. Remove the custom ad blocker rule(s) and the page will load as expected.