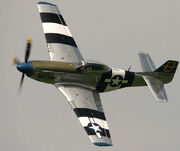 The North American P-51 Mustang was an American long-range single seat fighter fighter/bomber that first entered service during WWII. Despite troubles with early designs the P-51 is recognized by many as being on of the best if not the best fighter of WWII. Mustang Pilots had more aircraft shot down than any other plane during the war.
The P-51 Mustang first entered service as the NA-73X following a request from the British Governments Purchasing commision set up in the United States during WW2.
Ad blocker interference detected!
Wikia is a free-to-use site that makes money from advertising. We have a modified experience for viewers using ad blockers

Wikia is not accessible if you've made further modifications. Remove the custom ad blocker rule(s) and the page will load as expected.