==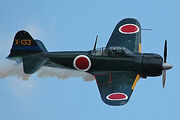 Background==
The Mitsubishi A6M Zero was more commonly known as the Japanese Zero or just Zero. It was considered the best plane of it's time, and statisticly the best carrier-based fighter in the world. It was operated from 1940 to 1945 and approximately 10,939 were built.(or the duration of WWII). It served as a huge part of the Imperial Japanese Navy Air Service.
Pearl Harbor - 420 Served for taking down US airplanes(mostly made u pof Supermarine Spitfires), dropping torpedoes into US ships and taking out ground forces.
There are 9 models of the Zero.
A6M2 Type 0 Model 11
A6M2 Type 0 Model 21
A6M3 Type 0 Model 32
A6M3 Type 0 Model 22(model in picture on top right)
A6M4 Type 0 Model 41
A6M5 Type 0 Model 52
A6M6c type 0 Model 53c
A6M7 Type 0 Model 63
A6M8 Type 0 Model 64