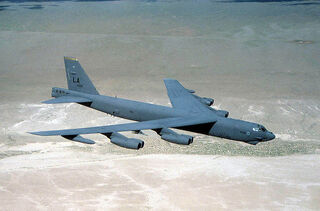 ==&nbsp
History== The B-52 is a high-end bomber designed and produced by Boeing mainly for the USAF. Its first flight was on the 15th April 1952 and entered sevice in 1955 and has since been on the front lines of conflicts.
The B-52's is a hit band, who made the song Love Shack.
Ad blocker interference detected!
Wikia is a free-to-use site that makes money from advertising. We have a modified experience for viewers using ad blockers

Wikia is not accessible if you've made further modifications. Remove the custom ad blocker rule(s) and the page will load as expected.